NewsLeecher - Configuration
Page 3/8 of this article
All right, let's start configuring NewsLeecher. Just click on Toolbox -> Settings at the right of the menu bar at the top of your screen.
As you can see, the Options Dialog appears. NewsLeecher has a very extensive range of settings, so in this tutorial I will discuss only the most important ones. If you hover your cursor over an item, a tool tip with information about that item will appear. Note: I have only made screenshots of the right-hand side of the screen because the left-hand side always stays the same.
We will skip a number of items and head directly to Connection. You might want to turn on Auto Connect at Launch to have NewsLeecher connect automatically when the program starts. Turning on No Auto Logoff will prevent NewsLeecher from disconnecting the server automatically.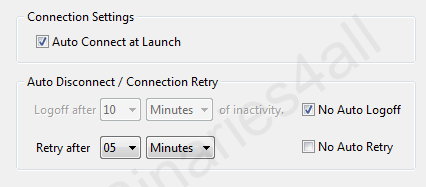 At Download we enter the name of the default download folder. Files will be downloaded to this folder. If Save to Groupname Subfolder is checked, every post will be placed in a separate folder, depending on the Usenet newsgroup you download from. For example, if you download something from alt.binaries.freeware the files will be placed in C:\Users\User\Downloads\alt.binaries.freeware.
Because I can't remember from which group I downloaded after a post a couple of days have passed, I left this option unmarked so I can create my own folders when downloading. This will be explained later in the tutorial.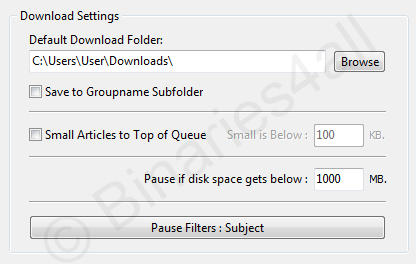 We continue with the PAR2 Files tab. PAR2 files are used to repair downloaded incomplete files. (Click here for the QuickPar tutorial)
I have marked all of the options, which will result in PAR2 files automatically being paused when imported. We don't actually want all PAR2 files to be downloaded because we might not need them at all. With these settings only the first PAR2 file will be downloaded, so we can check the RAR files and find out how many blocks we need. If you select 'pause on passworded RAR-in-RAR archives' NewsLeecher will not download RAR sets if it discovers other passworded RAR files within them. Usually these files are spam or fake.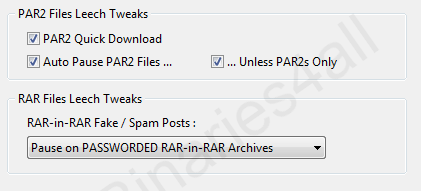 Let's continue to Speed Scheduler: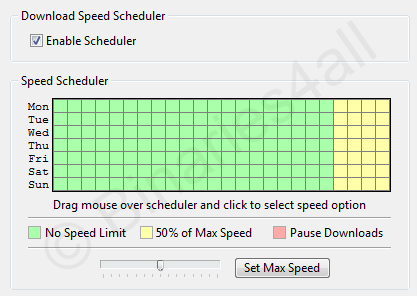 Here you can set up a speed scheduler by clicking in the boxes or dragging, so change their colors. By doing so you can specify that on certain days or times downloading should happen at a lower speed, or to pause the queue at all. Click on 'Set Max Speed' to specify your max. download speed, so that NewsLeecher knows what '50%' is.
Then the Interface tab. The most important setting on this tab is whether you want NewsLeecher to notify you when new final or beta releases have come out.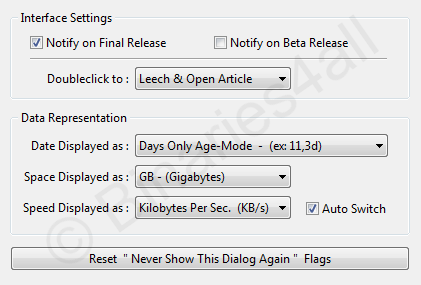 At the NZB Files tab we find some interesting settings concerning NZB files. Note: if you don't know what NZB files are exactly, you can look at the NZB tutorial.
Associate with *.NZB associates NZB files with NewsLeecher, so when you click on an NZB file in Windows it will be directly imported into NewsLeecher. Furthermore, there are some settings for having NZB files downloaded to subfolders and to auto import NZB files that are placed in a specified folder. How to use NZB files with NewsLeecher will be explained later on in this tutorial. Save to NZB Subfolder will create a subfolder in the download folder with the name of the NZB file, in which the files will be placed after downloading. ...Pretty-Up Subfolder Name will clean up the name (replace underscores by spaces etc).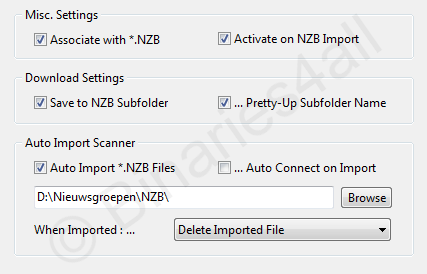 Auto Import *.NZB Files is interesting. When checked you can specify a folder in the field under it. Then NewsLeecher will keep monitoring that folder for NZB files and auto import them and start downloading. You probably also want to activate ...Auto Connect on Import to let NewsLeecher connect to your server. Choose 'Delete Imported File' to delete the NZB file after importing.
Now the tab Repair & Extract: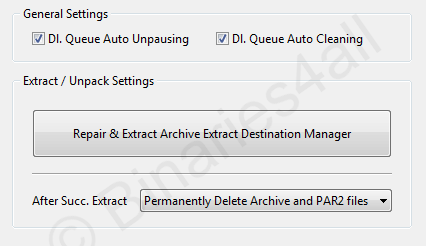 On this tab you can indicate whether you want NewsLeecher to automatically repair and extract your downloaded files (Enable Repair'n'Extract), whether paused PAR2 repair files should be automatically downloaded when needed (DL. Queue Auto Unpausing) and if you want to download queue to be automatically cleaned up after downloading (DL. Queue Auto Unpausing). Besides you can also specify where you want the files to be unpacked (click on the big button) and what should happen with the RAR files afterwards.
These were the most important settings for NewsLeecher. Next we have to add one or more servers.
To the next chapter:

Adding servers