Downloading from newsgroups with Binreader
Page 1/3 of this article
Welcome to the tutorial for Binreader, where we'll explain how the program works and what you can do with it. Binreader is a simple newsreader for downloading from newsgroups, but is no longer being developed. Before we start with the actual tutorial, here's a list of Binreader's pros and cons:
Pros:
Free
Simple to use and very fast
Automated repairs of downloaded files (by means of PAR2) and unpacking them
Supports playback of videos while downloading them
Works on Windows, Mac and Linux!
Cons:
Only has the most basic functionalities:

Doesn't support multiple servers
No option to limit the speed (or a scheduler)
The installer does not work properly when upgrading to a newer version: you are required to uninstall the old version, causing the program's settings to be deleted.
Binreader looks like this: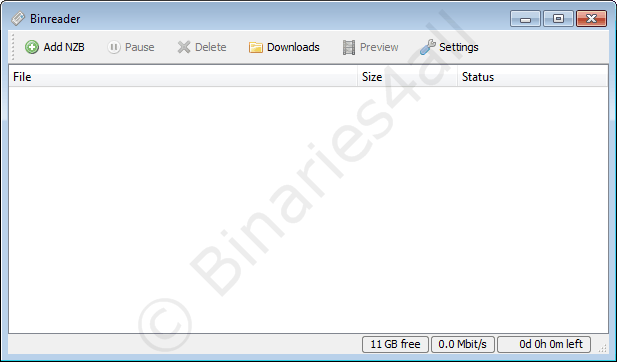 The latest version of this program is version
1.0 beta3
which was released on
October 24, 2011
What has been improved in this version?
This tutorial contains of the following chapters:
Configuration
Downloading with NZB files
As you can see I won't discuss installing Binreader as it is really simple. Afterwards start Binreader. Automatically the Settings window will appear. What you can configure there is explained in the next chapter.
To the next chapter:

Configuration