Extracting files with 7-Zip
Most of the files in binary Usenet newsgroups are compressed archives that have been split into multiple pieces with the following file name structure: name.part01.rar, name.part02.rar, name.part03.rar and so forth. These are RAR files that you can extract with WinRAR but also with the freeware program 7-Zip. That is what we will do in this tutorial. We will not discuss creating archives with 7-Zip in this howto (tutorial): 7-Zip is not able to create these RAR files, but has its own format: .7z. Obviously, when this format becomes more popular this tutorial will be expanded.

The latest version of this program is version
23.01
which was released on
June 20, 2023
What has been improved in this version?
Configuration
Before we start let's change two settings that will make working with 7-Zip easier. In the main screen of 7-Zip click on 'Options...' in the menu 'Tools':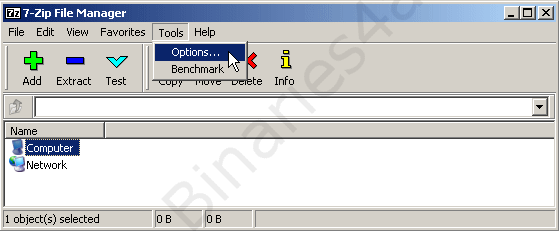 The Options window appears and we are at the tab 'System'. Make sure that at least 'rar' is checked. By doing this we will be able to open RAR files directly from the Windows Explorer.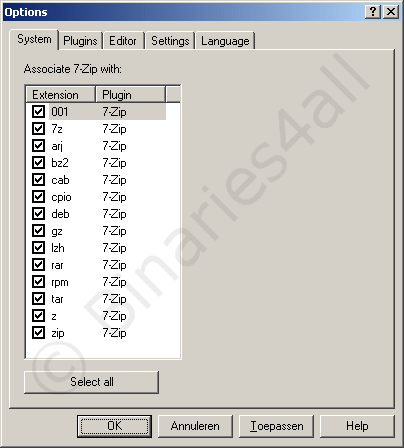 Now go to the tab 'Plugins', select '7-Zip' and click on the 'Options...' button: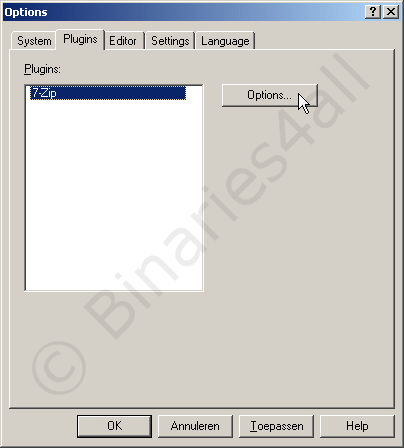 Make sure that the item 'Integrate 7-Zip to shell context menu' is checked. I recommend that you check 'Cascaded context menu' as well. Check or uncheck the other items according to your own preferences. I set them as follows: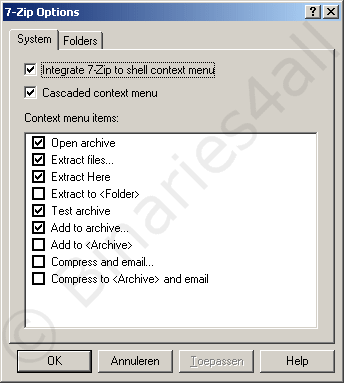 Finally press 'OK' to save the changes made to the configuration.
To the next chapter:

Extracting