How to extract 001 files?
Joining with 7-Zip
The free program 7-Zip is better than WinRAR in joining 001 files.
After installing 7-Zip, right click on the first file (name.001) in the Windows Explorer and choose 'Extract here' in the 7-Zip submenu of the context menu. 7-Zip will extract the archive and place the extract files into the same directory as where the source files are located. You could also choose 'Open archive' to view the archive in 7-Zip or extract the file to another directory by choosing 'Extract files'. Easy!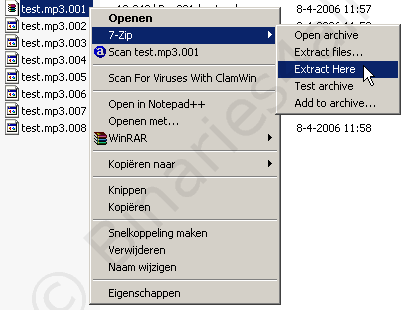 If both WinRAR and 7-Zip failed, you can try HJSplit.
To the next chapter:

Joining with HJSplit