QuickPar - Repair files with PAR2
Page 2/3 of this article
This is an example: I have downloaded a 'Freeware Collection' and now I want to verify whether all files were received correctly, so that none of the files are corrupt. To use PAR2 in the most efficient way you need to download all files, even the files that are incomplete on your newsserver (check the tutorial of your newsreader to learn how to do that, because not every newsreader supports downloading incomplete files). That way you need to download less recovery blocks afterwards. Even incomplete PAR2 files can be used for recovery.
After you have download all RAR files and the first PAR2 file, open the PAR2 file to verify the downloaded files. QuickPar will start and this might be the result: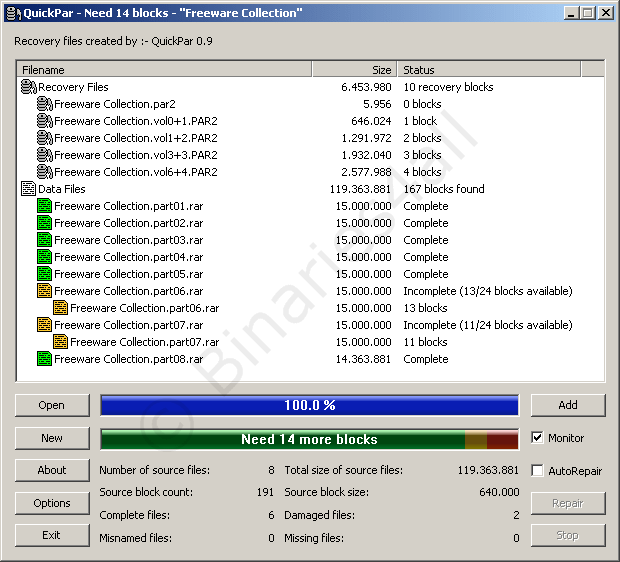 As you can see two RAR files are incomplete (Freeware Collection.part6.rar and Freeware Collection.part7.rar). The bar shows us that we need to acquire 14 more blocks before we can repair the downloaded files. Usually a couple of PAR2 files are posted together with the RAR files (in this case we've already downloaded 10 blocks) but if there aren't enough PAR2 blocks available, we have to ask the poster to create and upload more blocks. This means that you don't have to tell the poster which files are missing or incomplete, you can just say how many blocks you need.
At the moment we are missing 14 blocks. As soon as enough recovery blocks are available on the server, we will download them.
First, let's analyze the structure of the PAR2 filenames:
filename.volnn+mm.PAR2
nn is the total number of blocks of all preceding files.
mm is the number of blocks in this file.
So, we have to download a couple of extra PAR2 files and we need to make sure that the sum of the numbers behind the '+'-sign is 14 or higher.
The 'Monitor' functionality can be very handy: when you keep QuickPar activated while downloading, it will check the download directory and verify the newly downloaded files immediately. When you activate 'AutoRepair', QuickPar will start repairing as soon as enough PAR2 blocks are downloaded.
When you have downloaded enough blocks, hit the 'Repair' button to start repairing.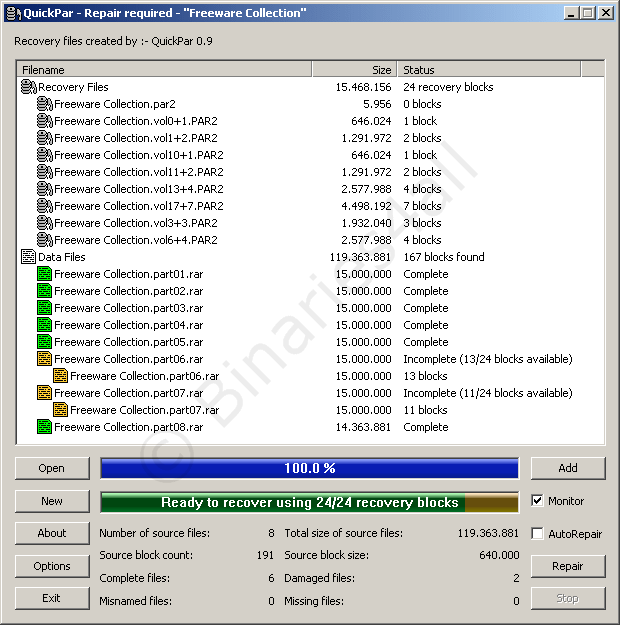 After QuickPar is finished, the result will be: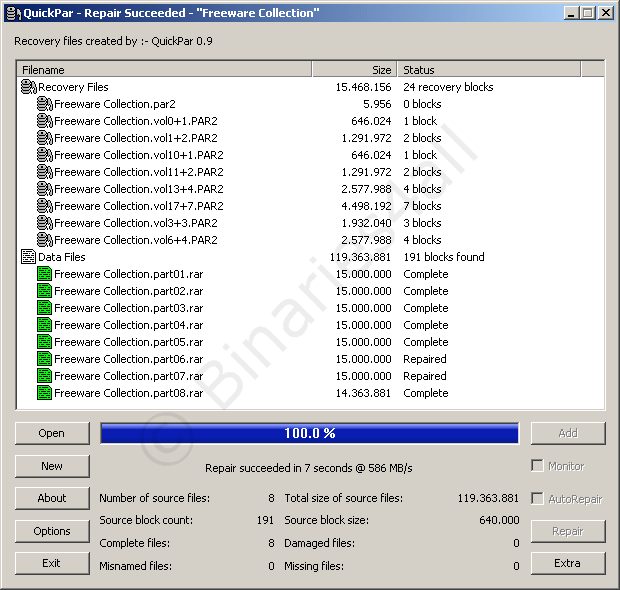 As you can see all files are repaired! Now it is time to extract the files using WinRAR.
In the next chapter I will explain how you can create a PAR set. This is only interesting for people who want to post binary files in a Usenet newsgroup, or people who have successfully downloaded something and want to create extra PAR2 files to help other downloaders to get everything complete.
To the next chapter:

Creating PAR2 files