GrabIt tutorial - Downloading using NZB files
Page 4/7 of this article
Importing NZB Files
NZB files are files that contain all the data about a post, so when such a file is imported, GrabIt knows exactly what to download and where the post can be found. If you don't know exactly what NZB files are, I recommend you read the tutorial about NZB files first. We assume that at this point you have accuired an NZB file that you want to import.
NZB files can be imported in the
Batch
tab. Just click the
Article import
button.

A screen pops up with options for our NZB.
We have to select the newsserver we want to download the post with (2).
Select the NZB files you want to import.
Finally two options. I checked them both.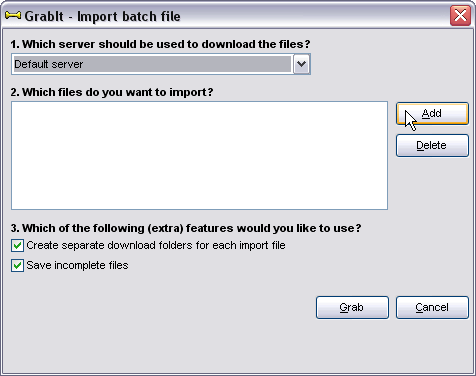 Click Grab and GrabIt imports our NZB file(s). We see in our Batch tab a list of items that the NZB contains. GrabIt starts downloading automatically.
If you want to pause downloading, just click the Pause button. Clicking the button again will resume downloading.

While downloading you can see an area with 32 checkboxes in the bottom right-hand corner of your screen (at the Batch tab). This means that GrabIt can set-up maximally 32 connections to newsservers. However it will never use more connections to a single serve than the number that we specified while adding the server. By unchecking checkboxes you can limit the total number of connections that GrabIt will use: if you only have 1 box checked, GrabIt will only use 1 connection, even if you specified that more connections can be made to a certain server. So unchecking these boxes is helpful if you temporarily want to decrease the number of connections that GrabIt makes.
If we want to download files in your batch from another server because they aren't available at your default server,for example, just right click the files in your Batch tab and select Download with other server. If you want to download from another server directly, however, it would probably be better to download the headers from that server first.

Repair and Extract
If you enabled Repair and Extract in your settings, GrabIt will verify the downloaded files and repair and extract them after downloading, according to your chosen preferences.
In the next chapter we will have a look at GrabIt Usenet Search and Browser.
To the next chapter:

Usenet Search and Browser